SIMPLEXITY la beauté du geste
Composer, director of dance films, creator of choreographed multimedia installations, Thierry De Mey has followed a unique path over the past 3 decades guided by his fascination for movement. Today, this artist to whom Belgian dance owes so much, has written his first performance: a large-scale work created with IRCAM, the Ensemble intercontemporain, and a group of dancers. Based on research on digital technology, SIMPLEXITY la beauté du geste blends music and dance, the auditory and the visual, in formal structures performers are invited to inhabit. The theme which nourishes Thierry De Mey's œuvre is found throughout the performance: the quest to find the impossible connections between a structure and its incarnation, between technology and the living, mathematics and nature, the scientific and the poetic. SIMPLEXITY offers a global experience in which music and gesture reconcile a fragment with the whole.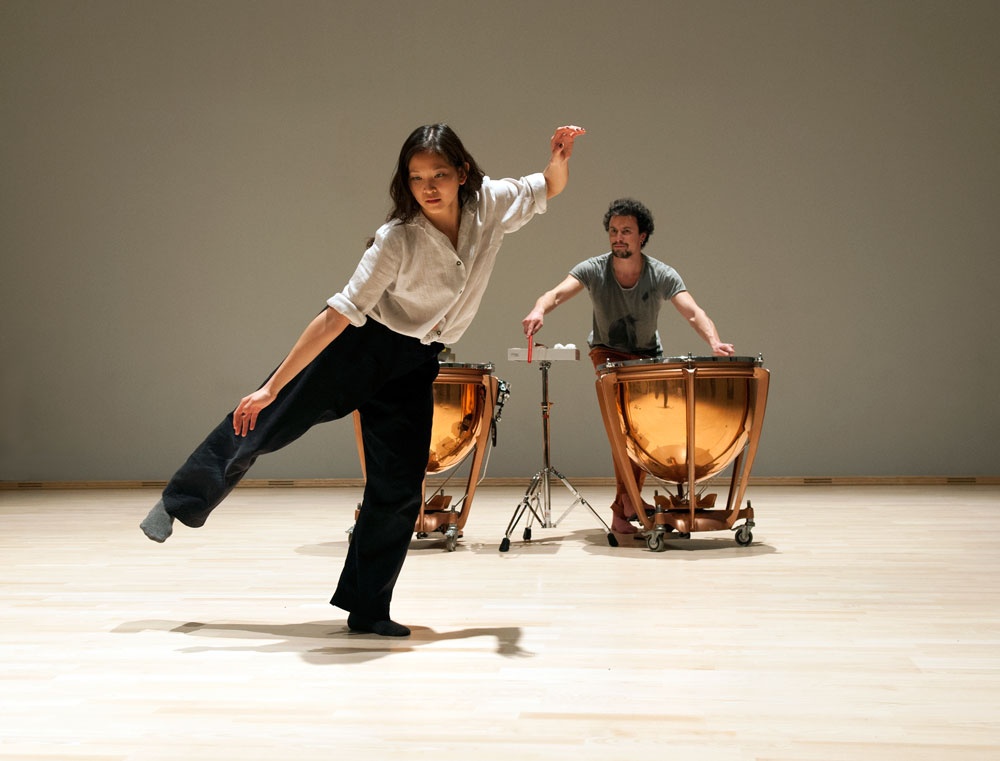 Repetitions of SIMPLEXITY la beauté du geste © Thierry de Mey
Thierry De Mey Concept, Music, and Choreography
Solis
tes de l'Ensemble intercontemporain
Jérôme Comte Clarinet
Samuel Favre, Victor Hanna Percussions
Frédérique Cambreling Harp
John Stulz Viola
Premiered and performed by Ildikó Tóth, Louise Tanoto, Peter Juhász, Sara Tan Siyin, Victor Pérez Armero
Zsuzsanna Rozsavolgyi? Assistant Choreographer
Manuela Rastaldi? Artistic Advisor
François Deppe Musical Creation Collaboration
Stéphane Orlando Musical Assistant
Benoit Meudic IRCAM Computer Music Design
Sébastien Naves collaborator informatique musicale Ircam
Xavier Meeus, Benoît Pelé ingénieurs du son et capteurs
Gioia Seghers Costumes
THIERRY DE MEY SIMPLEXITY la beauté du geste commissioned by the French government,

French premiere
Around the concert
June 3, 7pm, IRCAM, Stravinsky Room
Film "Images of a Work #21: SIMPLEXITY la beauté du geste by Thierry De Mey", a film by Philippe Langlois in collaboration with Aliocha and Boris Van der Avoort.
Free entry. Limited seats available.
A Charleroi Danses, Centre chorégraphique de la Fédération Wallonie-Bruxelles production. Co-organized by IRCAM/Les Spectacles vivants-Centre Pompidou, Ensemble intercontemporain, Kunstenfestivaldesarts, Théâtre de Liège – Festival Pays de Danses and Ars Musica. With the support of the SACD. Thierry De Mey is an associated artist with Charleroi Danses, Centre chorégraphique de la Fédération Wallonie-Bruxelles.