Imagine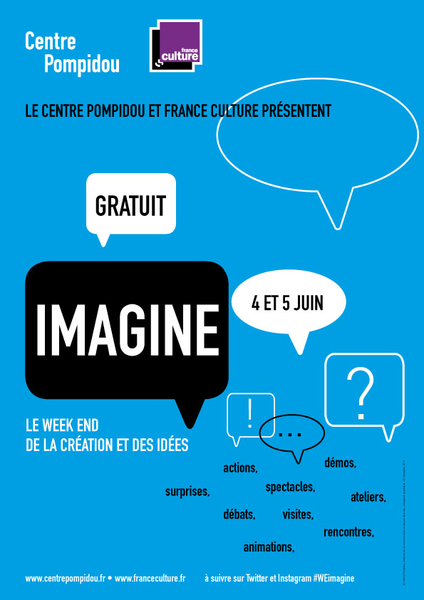 A Weekend of Creation and Ideas
Le Centre Pompidou, IRCAM, and France Culture have joined forces to create a unique event: a weekend at the Centre Pompidou open to all.
What unites creation, art, ideas, and knowledge? The imagination!
"Imagine" is two days dedicated to creation and ideas.
Two days of surprises, meetings with art, dialogues and debates on the role of culture, conversations, suggestions for play, performances, games, music. From the piazza in front of the Centre Pompidou to the heart of the museum (Musée national d'art modern), from the radio studio set up in the Forum to the open space just below dedicated to concerts and fictions and the Petite Salle completely taken over by IRCAM, visitors can fully live the experience of creation through discovery, reflection, and dialogue.
Saturday, June 4, from 11am to 7pm, scientists and artists from IRCAM invite you behind the scenes to discover sound creation and the latest artistic innovations; discuss live performances of the future and take part, with the whole family, in a collective interactive performance.
Screenings of films, round table discussions, and demonstrations…. The entire program "Art and Innovation" is free of charge.
The museum and all the activities offered at the Centre Pompidou will also be free on June 4 and 5.
.
#WEimagine
Program Saturday, June 4
11:00am-3:00pm, Petite salle |

Behind the Scenes of Creation
      Films Images of a Work
See some key moments from the creation of a work, watch the composer at work, understand the inspiration and issues surrounding recent creations produced at IRCAM. The series "Images of a Work" explain the creation of a work and brings you to the heart of an institute for research and musical creation.
14 short documentaries, 15 -20 minutes each
1:00-1:50pm, Plateau 1, Forum |

The Digital Revolution: When Art Meets Technology
    France Culture Session led by Thomas Baumgartner
More and more digital tools are used to enhance the artistic experience for creators, but also for performers and the public. Is the augmented man the future of live performance?
A debate with:
Gérard Assayag, Researcher and Director of the IRCAM lab Unité mixte de recherche Sciences et technologies de la musique et du son STMS (Ircam – CNRS – UPMC)
Grégory Beller, IRCAM Computer Music Designer
Thierry De Mey, Composer, Filmmaker, Choreographer
4:00-6:00pm, Petite salle |

Art and Innovation
       Digital Voices for the Stage and Cinema

Transformations in real-time, synthesized voices, augmented voices…. Discover the latest innovations from IRCAM in the domain of digital voices as well as their applications for live performances, music, and cinema.
A round-table discussion with:
Grégory Beller, IRCAM Computer Music Designer
David Christoffel, Composer
Nicolas Obin, Researcher from the IRCAM Sound Analysis-Synthesis team
6:00-7:00pm, Petite salle |

Collective Sound Checks
       An Interactive Experience
Using new web audio technologies, take part in a collective musical performance with your smartphone! (projet ANR CoSiMa)
An experience led by: Norbert Schnell and Benjamin Matuszewski, researchers in the Sound Music Movement Interaction team at IRCAM
More informations Centre Pompidou website