Academy
Rendezvous for creation in Paris, ManiFeste, IRCAM's multidisciplinary festival and academy joins music with other disciplines: theater, dance, circus arts, digital arts, visual arts. Every year, the academy trains 120 young international composers and performers, both active students and auditors.
Discover details of COMPOSITION WORKSHOPS | INTERPRETATION MASTER CLASSES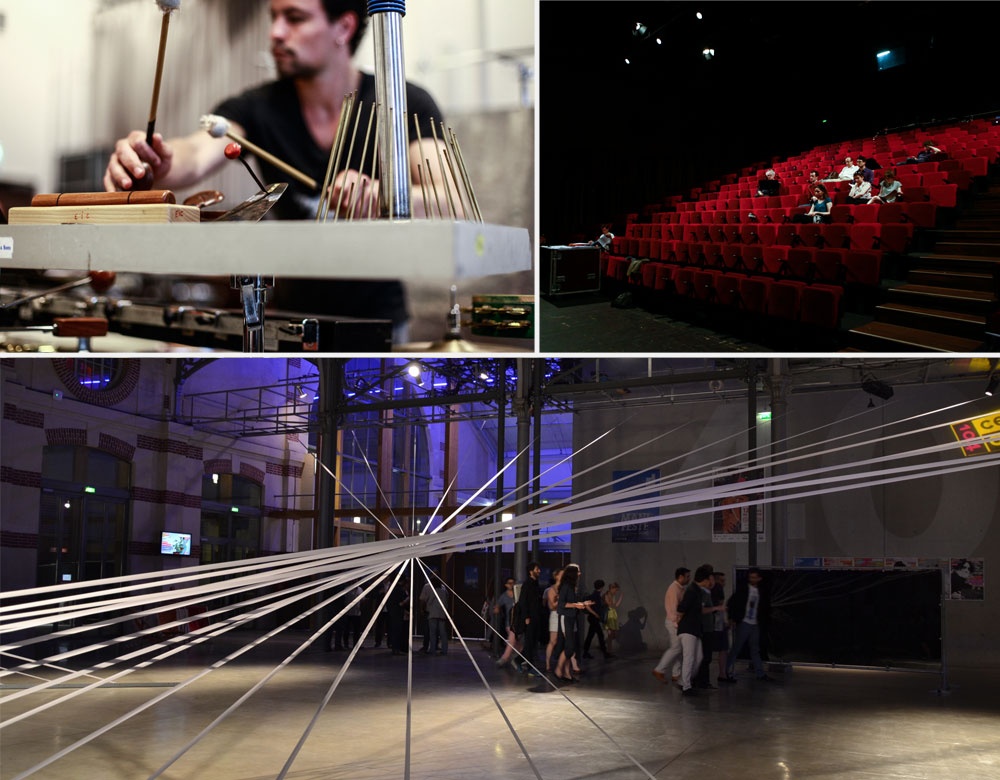 In 2016, ManiFeste brings together Beat Furrer, Mauro Lanza, Philippe Leroux, Rebecca Saunders, the circus artist Jérôme Thomas, the choreographer Xavier Le Roy and the percussionist Steven Schick. The Ensemble intercontemporain (ensemble associated with the academy) and the Orchestre Philharmonique de Radio France offer young composers the possibility to test a sketch with different groups: a chamber music group, an ensemble, or an orchestra. Electronics are the focus of a new In Vivo Électro workshop, imagined by circus artists who have created a scenography in close collaboration with the composers. Finally, the collective aspect is reinforced for young performers during both the master class taught by Steven Schick and during the In Vivo Danse-CAMPING workshop imagined by Xavier Le Roy. Performers are able to reflect on their creation of musical gestures, working on a score in tandem with young dancers.
Musicians, composers, artists, teachers… are also welcome to attend the academy as auditors and take part in all the academy activities (rehearsals for workshops and master classes, computer-music course, lectures and master classes on composition, analysis of works). Limited places are available. Applications accepted for auditors online via the ULYSSES Platform until Thursday, May 19, 2016. 200€ subscription fee includes:
Special access to the IRCAM multi-media library
Free entry to the final workshop and master class presentations
Special ticket prices for the ManiFeste-2016 festival events
A 50% discount on the IRCAM Forum's Premium membership
Discover the ULYSSES COMMUNITY, platform designed for young artists and organizations active in the field of new music.
Seven major partners are taking part in the organization of the academy: the Center for Research in Electro-Acoustic Music and Audio (Korea), the CENTQUATRE-Paris, the Centre national de la Danse – CAMPING, the Council on International Education Exchange (United-States), the Ensemble intercontemporain, the Orchestre Philharmonique de Radio France and Les Spectacles vivants-Centre Pompidou.
LATEST ARTICLE ULYSSES
The First week!
Tens of young talented people talking in English, French, German about music, dance, circus: no doubt, ManiFeste-2016, the Academy has begun. On Monday, 20th, active participants and auditors arrived at IRCAM and got to know each other.